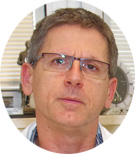 David Tanne, MD, FESO, FAHA
Prof. David Tanne serves as the president of the Israel Neurological Association. He is a Professor of Neurology and directs the Stroke and Cognition Institute at the Rambam Health Care Campus.  A graduate of the Sackler Faculty of Medicine )Magna cum lauda), He has completed his fellowship in stroke and cerebrovascular diseases during 1996-1998 at the Henry Ford Hospital and Health Sciences Center, Detroit Campus of Case Western University, Detroit, USA.
Prof. Tanne has directed the Stroke Center at the Sheba Medical Center and served at the Sackler Faculty of Medicine, Tel Aviv University and staff of the interdisciplinary Sagol School of Neuroscience and the Herczeg Institute on Aging. He has initiated reperfusion therapy for acute ischemic stroke in Israel, established a dedicated stroke unit, a neurovascular ultrasound lab and stroke prevention clinics.
Prof. Tanne is a principal Investigator of the National Acute Stroke Israeli Registry (NASIS) Project, the chair of the advisory committee for the Israeli Stroke Register, Israeli Ministry of Health, and Member of National Council of Heart and Vascular Disease, the Israeli National Health Councils.
Prof. Tanne has published over 250 scientific peer reviewed publications, serves on the editorial board of the journal Stroke and his major areas of interest are stroke, vascular cognitive impairment, dementia and Alzheimer disease, novel technologies and brain health.