Dear Colleagues,
Following the success of Brain-Hit2019, it is our great pleasure to welcome you to The Virtual Congress on Brain Health, Innovation & Technologies (Brain-HIT2020) which will take place 12-13 October 2020.
BrainHIT2020 is an innovative and informative platform aimed at exchanging knowledge between clinicians, neuroscientists, academia and entrepreneurs, startups and high-tech life science industry involved in the brain ecosystem.
The latest brain innovations and neuro-technologies for promoting healthy brains and healthy minds and for reducing the burden of brain disease and neurodegeneration will be presented and discussed.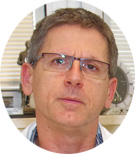 Prof. David Tanne, MD, FESO, FAHA
Rambam Health Care Campus, Israel
READ MORE
Contact Us
Please drop us a line with any questions or comments you may have.

We look forward to hearing from you.